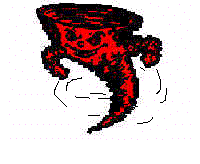 Past Editions
Beaver Falls (W 70-12)
Hopewell (W 52-33)
Mt. de Chantal Acadamy
(W 68-55)
Ursuline (W 66-12)
Canon-McMillan (W 64-50)
North Hills (W 63-23)
Shaler (W 64-57)
Seneca Valley (W 63-28)
Ft. Cherry (W 61-18)
Ambridge (W 56-52)
Pine-Richland (W 55-44)
North Allegheny
(W 57-31)
Hollidaysburg (53-34)
Coach Rankin notes on Lady Canes' games
Lady Hurricanes belt Butler
I knew our kids were focused coming into the Butler game, but I have to believe this is one of the best defensive efforts they have given since I have been here. We forced 22 turnovers, held them to less than 25% shooting and whipped the Tornadoes on their home floor. No gimmicks, no press, we just played hard nosed man to man basketball.
They have taped nearly all of our games but one thing that you cannot not do when you watch film is simulate the speed of the player that you are watching. That is why your second team is so important to the overall success of the team. These girls don't get a lot of credit, (Tasia Wise, Shelby Rogers, Nikki Wise, Javonna Moss and Jazelle Dennis) but they are very important.
I thought it was interesting that they ran a player at Jalessa all game and basically left somebody open when they played man to man. We got double figures from Ryenn and Abby while Kara did the dirty work.
We also contested nearly every shot and I thought they rushed some shots when they had time. That happens when you know a team has speed and can recover even when they get beat. Logan did a great job on Achenski although she had 12 points, she had to work for them all.
But we can't break our arms patting ourselves on the back. We beat them last year at their place and lost on the last section game of the season. They can beat us, so we need a good defensive effort when we play them. The atmosphere was like a playoff game and that was good for us.
Now Gateway comes to town on Monday. They beat us last year after this game so I think we'll be focused. Also, with a win, we will tie the school record for most consecutive wins to start a season.
I would love to see more fans at the games, the girls deserve it. We are the only undefeated girls team left in the WPIAL. Let's keep it that way!
2006/07 Schedule
.
Season Statistics